A report from S&P Global Market Intelligence revealed that mergers and acquisitions by North American companies declined in the fourth quarter of 2022. S&P said this represented a decline when compared to 2021, due to rising interest rates and a slowing economy that discouraged companies from deal-making.
M&A from U.S. and Canada fell to $1.477 trillion in 2022, down 41.4% from 2021, while the number of transactions dropped to 20,965, down 21.2% from 2021, the report said.
The report showed that Microsoft-Activision Blizzard (MSFT) deal was the biggest of 2022, at nearly $69 billion, followed by Broadcom's $67.99 billion offer to buy out VMWare. Elon Musk taking over Twitter was the third-biggest deal of the year, according to S&P.
The report highlighted that M&A activity was particularly slow in the second half of 2022 with $517.85 billion in deals. This represented a 38.2% decline when compared to the first half of the year.
In retrospect, 2021 was a record-high year for deal-making, despite the slowdown in the second half as "ultra-low interest rates and the Federal Reserve's quantitative easing program" helped companies obtain cash and cheap credit, the report said.
The consumer sector activity in Q4 was driven by Kroger's takeover of Albertsons for $30.60 billion, while deals in industrials sector also showed strength, most notably for IAA, Westinghouse Electric and Maxar Technologies.
The real estate and technology, media and telecommunications sectors saw weakness in M&A activity in the last three months of 2022, S&P said.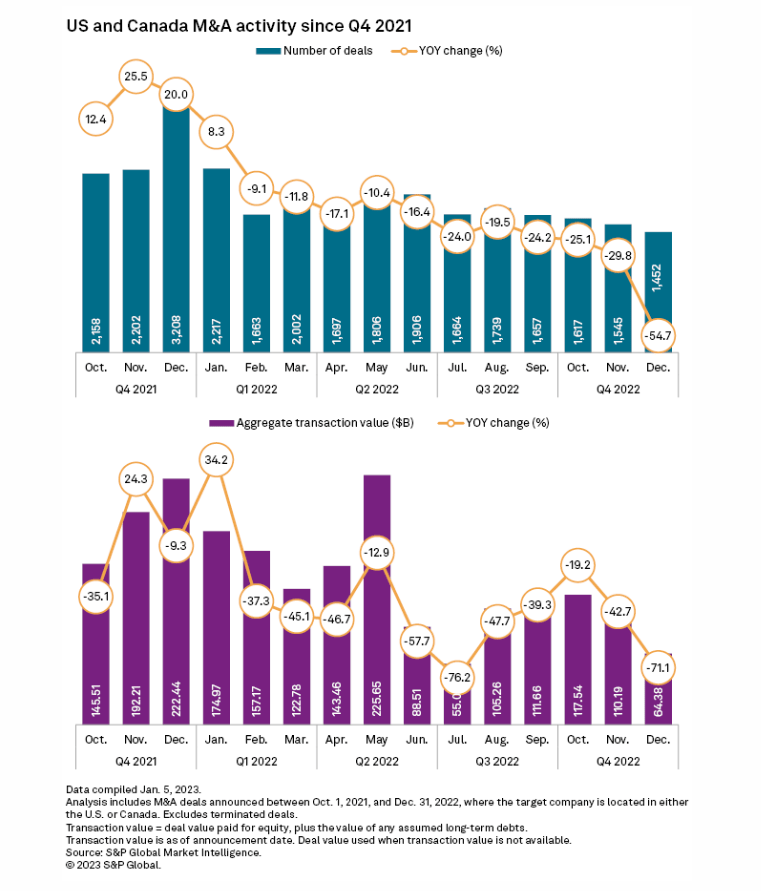 Image Source: S&P Global Market Intelligence